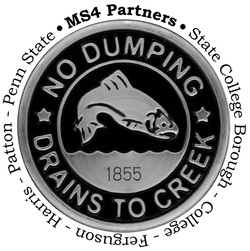 What is an MS4?

The acronym MS4 is short for a "Municipal Separate Storm Sewer System." From a practical perspective, it implies that a municipality, or municipal like entity, has a stormwater permit and is required by the Pennsylvania Department of Environmental Protection (PaDEP) and the US Environmental Protection Agency (US EPA) to develop and implement a stormwater management program to reduce the contamination of stormwater runoff and prohibit illicit discharges. The program must include six minimum control measures (MCMs) related to stormwater runoff; 1) Public Education and Outreach, 2) Public Involvement and Participation, 3) Illicit Discharge Detection and Elimination, 4) Construction Site Runoff Control, 5) Post Construction Stormwater Management, and 6) Pollution Prevention/Good Housekeeping. Additional Information on these six MCMs can be found below under "permit requirements".

HISTORY OF THE PROGRAM
Polluted stormwater runoff is commonly transported through Municipal Separate Storm Sewer Systems (MS4s), from which it is often discharged untreated into local water bodies. To prevent harmful pollutants from being washed or dumped into an MS4, operators must obtain a National Pollutant Discharge Elimination System (NPDES) permit and develop a stormwater management program.

Phase I of the MS4 Program, issued in 1990, required medium and large cities or certain counties with populations of 100,000 or more to obtain NPDES permit coverage for their stormwater discharges. Phase II, issued in 1999, required regulated small MS4s in urbanized areas, as well as small MS4s outside the urbanized areas that are designated by the permitting authority (PaDEP in Pennsylvania), to obtain NPDES permit coverage for their stormwater discharges. The MS4 Partners fall under the Phase II program and received their first permits from PaDEP in 2003.

PERMIT REQUIREMENTS
NPDES MS4 permits are issued for 5 years and the partners should have received new permits in 2008; however, PaDEP administratively extended the original MS4 permits until 2013. This 11 year period is considered the original permit cycle. The original permits essentially were developed by PaDEP to allow the municipality to basically discover what stormwater facilities may have existed in their jurisdictions and develop their programs over time during the permit cycle. In 2013, Penn State received the first new permit in the region, with the other Partners new permits following by 2014. The new permits increased in the level of complexity and documentation required for each of the six MCMs. Additionally, the new permits included provisions for MS4s with Total Maximum Daily Loads (TMDLs). A TMDL is the calculated maximum amount of a specific pollutant that a waterbody can receive and still meet its water quality standards. While portions of the Spring Creek Watershed are impaired and eventually will require the development of a TMDL, currently there is no defined TMDL in the MS4 area; and therefore, these new MS4 standards do not currently apply to the MS4 Partners.

---
Another requirement of the new permit cycle is that any MS4 within the Chesapeake Bay Watershed is required to develop a Chesapeake Bay Pollution Reduction Plan (CBPRP). The MS4 partners are required to develop CBPRPs and each Partner municipality and Penn State have developed them. The plans are currently under review by PaDEP.

The actual permit requirements for each MCM can be seen by clicking on the below links:

MCM 1) Public Education and Outreach,MCM 2) Public Involvement and Participation,MCM 3) Illicit Discharge Detection and Elimination, MCM 4) Construction Site Runoff Control, MCM 5) Post Construction Stormwater Management, MCM 6) Pollution Prevention/Good Housekeeping,Permit Part C Example Includes Chesapeake Bay Pollution Reduction Plan

What is an illicit Discharge? For more information please see the following

presentation

.

For information on each Partner's specific MCMs or programs, contact the Permitee or go to their stormwater website found under the links/resources tab.

Each MS4 Partner is required to develop its own programs; however, the MS4 Partners work cooperatively together on MCMs 1, 2, and 6 in addition to keeping stormwater ordinances similar for uniformity within the region.
HOW CAN YOU HELP?Volunteer:
Volunteering for events such as Earth Day or watershed cleanup events is a great way to do your part in helping out environment. If you would like to volunteer for an existing event, or develop a new one, contact your municipality or
ClearWater Conservancy
.
Pick up Trash:
Sometimes someone will inadvertently drop a piece of trash on the ground. If you see trash that you can safely pick up, collect it up and put it in the nearest garbage or recycling bin. It's that simple. If its too large, or you think it may be hazardous, contact your municipality. Improperly controlled trash can enter the storm drain system, which then can reach a water body such as Spring Creek.
Never dump down drains:
Our storm inlets lead to our creeks or stream carrying any pollutants and are not garbage receptacles. These untreated pollutants can kill fish and other aquatic life. Additionally, because we live in a karst environment, many storm inlets go directly to sinkholes or other recharge areas where pollutants can impair our groundwater.
Educate others:
If you hear interesting facts that help our environment, spread the word around. Knowledge should be contagious.
Conserve Water:
Enough said!
Car Care:
Make sure your vehicle isn't leaking fluids and dispose fluids at a designated recycling point. Use a car wash that treats and recycles its water or wash your car on grass or gravel areas instead of pavement areas where the runoff goes right to a storm drain inlet.
Lawn Care:
Use fertilizers and pesticides sparingly as required, and don't forget to pick up pet waste. Lawns should be tested for nutrients to ensure the correct amount is applied, or if fertilizer is even needed.
Salt Usage:
While we need to use salts on sidewalks and other impervious surfaces to prevent accidents, limit its use to only what's necessary and clean up excess spills immediately. When runoff occurs, the chlorides from the salts are washed into our waterways.